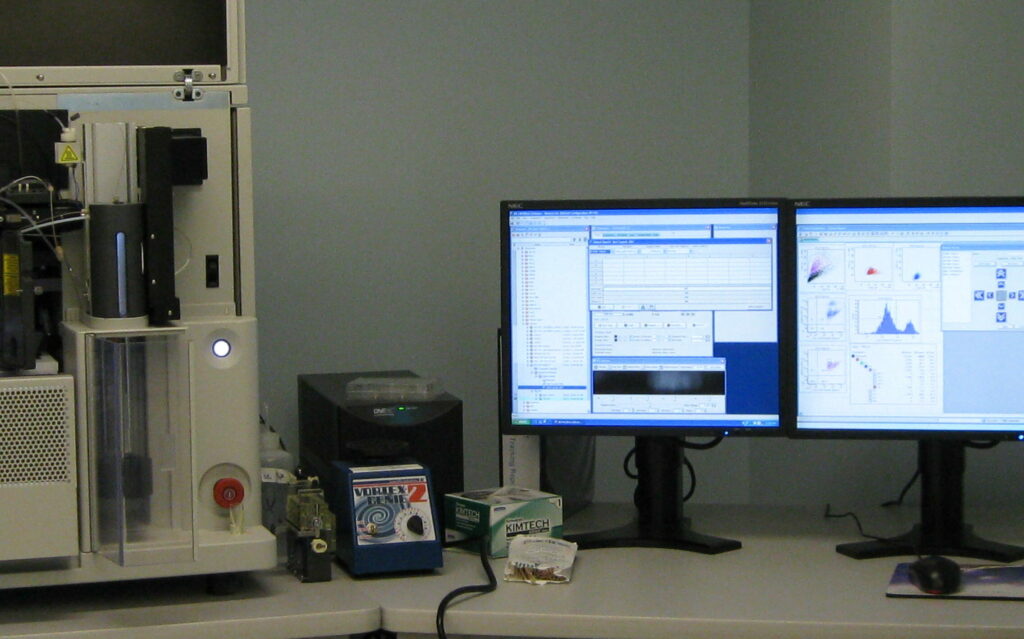 Overview
The BD FACSAria II incorporates a unique fixed alignment technology that revolutionized cell sorting with its introduction. Fixed alignment minimizes startup time and improves reproducibility. Gel coupling to the objective lens improves collection efficiency and increases sensitivity and resolution needed for multicolor sorting applications.
Optical Features
BD FACSAria is equipped with three lasers having 9 color parameter excitation: 405nm (Violet); 488nm (Blue); 633nm (Red); 561nm (Yellow), pending.
Sample Collection
We support a wide range of sample collection options:
1- to 4-way for tubes (tube format limiting).
1 way to slides or dishes.
1 way for 6-, 12-, 24-, 48-, 96- and 384-well plates via the Automated Cell Deposition Unit (ACDU).
The sort collection device includes a cooling device (for both tubes and multi-well plates) and an aerosol management system for enhanced removal of aerosols. Samples may be received in any of the following formats:
1.7ml micro-centrifuge tubes,
12x75mm (5mL) tubes or 15mL falcon-style centrifuge tubes
Samples can be maintained at 4°–42° C.