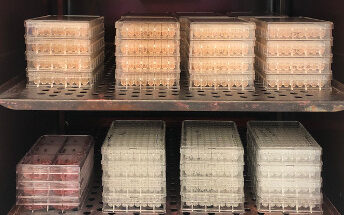 Overview
We can provide a wide array of reagents including TAB2 RPE culture medium and hibernation buffer (HIB) for improved preservation of neural health during dissection and dissociation. Along with this, we provide additional reagents in collaboration with our affiliated company, StemCultures, LLC. Details about these additional reagents can be seen below.
StemBeads
StemBeads are microbeads composed of FDA approved, biodegradable PLGA polymers that are loaded with recombinant human protein. Over time, they break down while releasing the encapsulated protein at a controlled rate to improve the quality of your cultures.
Available Growth Factors: Activin-A, Blank15, BDNF, EGF, GDNF, FGF2
DISC Devices
DISC devices contain StemBeads and release the encapsulated protein at a controlled rate over 1-2 weeks. One DISC can be added per passage and remain in the culture vessel for several media feeds, saving time and money, and improving cell quality.
Available Growth Factors: FGF2
Product or Service Inquiry
Have a question or interested in purchasing? We are happy to help!