Miltenyi Biotec MACSQuant
MACSQuant Analyzer.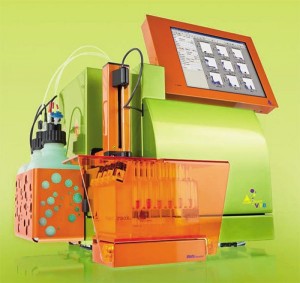 compact flow cytometer for multiparameter cell analysis,
equipped with three lasers that provide the ability to analyze up to 9 parameters (FSC, SSC and seven colors (4-blue, 2-red, and 1 violet)
can efficiently perform sample labeling and sensitive 7-color flow analysis in a fully automated fashion.
Rare cell populations can be reproducibly enriched using the integrated MACS Cell Enrichment Unit before analysis.